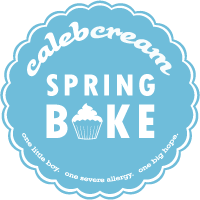 Caleb Cream is now taking orders for Spring Bake. You can place your orders by filling out the form here. You can check there for more details on what we are selling and prices. Please tell your friends and family about this so we can raise as much money as possible for FAAN.
We are taking orders from now until March 28th. Spring Bake runs from March 19th to April 2nd.  If you need treats for a later date contact us and we will see what we can work out.
Stay tuned for information about a new idea Caleb has for Caleb Cream called "Caleb Cream and Friends" along with more info on who else Caleb will helping out with the proceeds from this year's Spring Bake.