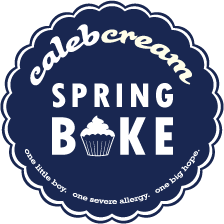 March is here. The weather is warming up. It is almost time for Caleb Cream's Spring Bake. What's that? Caleb Cream will be having it's first spring bake sale. Bake sale items will feature cupcakes, macaroons, etc. Best of all, we will deliver the goodies to you. Look for a flyer or brochure with a list of items to come soon. 75% of proceeds will go to FAAN and 25% will go to The Pediatric Brain Tumor Foundation.
Caleb decided he didn't just want to help find a medicine to take away his peanut allergy but he wanted to help other children who face greater issues than him everday. That is why this year, we will donate 25% of the proceeds to a charity that Caleb chooses. For this fundraiser, he chose the Pediatric Brain Tumor Foundation. For more info visit…http://www.pbtfus.org/
Check back for more info to come…including where you can order the delicious treats!